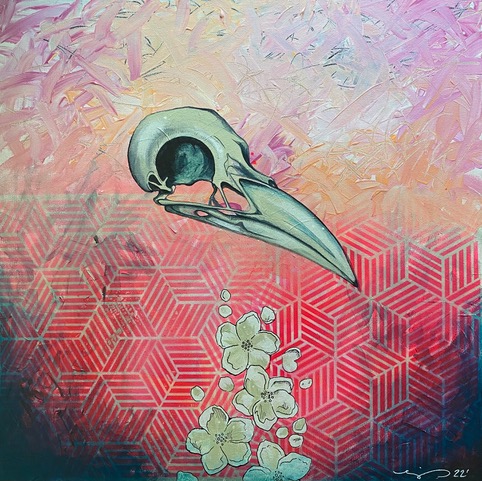 ABOUT ELEANOR
Eleanor James is a painter, illustrator and nature lover born in Birmingham, England in 1982. She emigrated to the United States at the age of three with her parents, brother and one trunk with their life's belongings. The combination of art and nature have always been a focus of Eleanor's life; as a gardener in her teenage years, to a landscape architect by trade as an adult. As a self-taught artist, Eleanor has always brought elements of nature, emotion, and design together in her surreal artwork.
Eleanor's work focuses on the use of acrylic paints, watercolors, inks, and spray paints. The diversity of mediums allows her to adapt her work to her mental state. The compositions tie together this love for nature with the challenges of life. The balance of the hard and the soft, the light and the dark. The use of geometry and hard lines mixed against soft rolling landscapes and backgrounds mimics how her mind sees the world. In presenting her art, she hopes to invite you into her thought process and see how she tries to balance the pain and beauty of this lifetime.
Eleanor's work has been shown in exhibitions throughout New Jersey including the 'Hinterland' exhibit in Murray Hill, NYC, The Torche Gallery in Belmar, The Oyster Point Gallery in Red Bank, The Atlantic Highlands Arts Council in Atlantic Highlands, The Locals Art Gallery in Asbury Park, and Over The Moon Art Studio in Asbury Park. She is an advocate for emerging artists and curates pop up galleries throughout Monmouth County to create opportunities for other local artists to present their work.
---
"Hope is being able to see there is light, despite all the darkness." – Tutu
---
ARTIST STATEMENT
I find the balance of life to be a struggle, as I'm sure most of us do. How do we find the light through the darkness, the soft within the rigid, the kindness amongst the hate? My artwork reflects these juxtapositions of contrasting emotions and circumstance in life. I often create geometry softened with landscapes, skeletal structures against botanical studies, soft pastels next to vibrant fluorescents in a way that mirrors this equilibrium in my mind. I want my viewers to connect on a personal level with my work and remind themselves of the struggles they have fought, that they have worked hard to show up, to care, to be strong and to be kind. I want to bring out their emotions and experiences so they can be sincere and raw with their reflections of life. I hope to connect with people on a vulnerable level where we can find compassion, kindness and love for ourselves and one another.